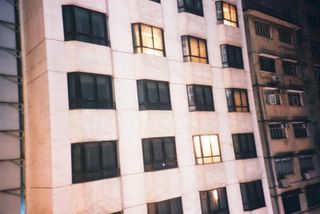 Mr Ts 'Lonely people in TST' pic
.

Disparity in Asian-White Dating
I was reminded again after being reunited with Mr T in Hong Kong of our uniqueness as a mixed race couple. The stares we get when we are together are unbelievable and they are not stares like they are in melb where you catch someone out and they look away, no they are lingering stares.
I was so excited to see another couple 'like us' when i was there that i squeezed his hand and I smiled. Its refreshing to know there are others like us!
A little while back a friend of mine directed me to a website which discussed the 'Disparity in Asian-White Dating' as it is referred to.
As you have probably seen there are plenty of interracial couples the other way around: White males and Asian females. When i was in Hong Kong on my latest holiday there (11 days) I tried to count and come to about 40(WM-AF) to 1 (WF-AM not including us). Interesting though American marriage stats are actually not quite as extreme. Its about 3 to 1. However as
Tanaka's
notes:
People I've talked to in the various parts
of this country told me that these ratios seem too low.
That is, the observed ratio from real life is somewhere
between 10:1 and 20:1. We suspect two reasons for this
discrepancy: (i) Most of the A/W couples that we see are
casually dating, not married (and will not marry). Among
dating couples the ratio is somewhere between 10:1 and
20:1.
Also factoring in the
Gremlin to god syndrome
it starts to make sense.
Tanaka
attempts to explain why there is such a big difference. While I don't agree with all of his theories, two things stood out for me personally from his article. First he talks about pervasive media bias. Particularly the under representation of Asian men in American media and then the way they are portrayed within the media. He quotes Alan Hu [1994]:
[...] Asian men are portrayed as: asexual martial arts
masters, asexual viet cong guerrillas, asexual servants, and
asexual geeks.
Asian women get to be prostitutes, geisha,
repressed-daughters-named-May-Ling-of-cruel-oppressive-
emperors-(there's another male role)-waiting-to-be-sexually-
liberated-by-a-real-(white)-man, and recently, newscasters.
[...]
As another data point, look at the (infrequent) interracial
couples in films: the man is almost invariably white
Thinking about this on a personal level it makes sense. For me dating an Asian man was not something I thought about previously (this is something that appears to be very common amongst WM by the sounds of it). I'm sure I was surrounded by attractive asian men from time to time on the street not to mention some of my good AM friends in Melbourne but I wasn't really seeing them. In fact it wasn't really until I moved to Hong Kong that it started to see them in a slightly different light and I can't help but wonder if it was the affect of starting to watch more and more HK movies with some very nice looking actors. I would hate to think that it was that simple: that the media influences me that much, but I can't rule it out. I'm very much aware of the lack of good female roles within movies and the male gaze so i can't believe I never noticed this before.
The second thing was the height issue. I prefer taller guys than me (my one superficial requirement- i know i know ...), I'm 173cm tall and AM often struggle to meet that requirement. Little did I know that MR T (who is 6ft2) was out there.
My google searching also reveals results on an
online quiz
which asks both WF and AM what factor dissuades relations with the other and the majority (almost 75% for both WF & AM) marked that they don't think that the other will find them attractive. This might help to explain why MR T and I were very close and very flirty for so long before any move was made.
I would like to re-address this issue at another stage because it is a rather complex issue. In the meantime though I will leave it (like Tanaka) with Alan Hu's advice:
On a societal level, look around you and
look into yourself. Recognize media bias and attempt to
counteract it. If you see something egregious, point it out,
write a letter to the editor, do something. If you see
racism and prejudice in yourself, attempt to eliminate it.